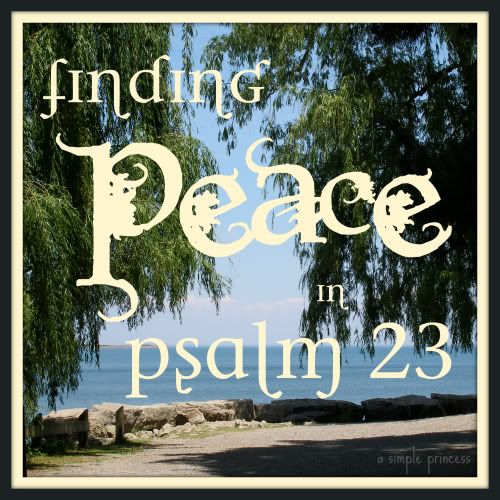 I have been studying this Psalm from nearly the beginning of this year and have had so many interesting facts come across my path as I have studied the relationship between the shepherd and his sheep as well as our relationship with The Shepherd as His sheep. As I hit the passage of being made to lie down, I was placed into a position where I needed to sit back and take a break...with a broken finger. God has a way of making Himself known and getting His message across and when we are not prepared to listen He does not hesitate to hammer it home. As I was studying today's verse, nothing could have prepared me for the dark valley I would be in on the week prior to posting this. A wise man (my dad) told me that sometimes you need to be in the valley to truly share how and why you do not fear midst the darkness. So here I am....sharing as I stand in my own dark valley...and I am not alone.
4a. Even though I walk through the darkest valley,
I will fear no evil, for you are with me;
When we become followers of Christ it does not mean we will be free of pain, free of struggle or free of loss. What it does mean is that we will not be alone amidst all of these. Our God did not promise to take us out of these tough places, actually we are told
we will have trouble
s
but He did promise He will get us through them. Sometimes He is there to lead us out of the pit, sometimes to hold our hand as we stumble through and other times to pick us up and carry us to the end. Regardless of how deep and dark the valley is, He is there with of us. I know He is there for me...I am clinging to this fact even as I struggle to pick up the pieces and put them back together!
In this fourth verse of Psalm 23, the pronoun changes, did you notice it? The first three verses are not quite as personal, using "He" and "His" whereas in the next three verses they become more intimate, using "You" and "Yours". David's word choice is meaningful, suggesting that when the path is smooth the shepherd leads the way, He goes before us and reinforces the fact that He is there to guide us and will not leave us.
"The

Lord

himself goes before you and will be with you; he will never leave you nor forsake you. Do not be afraid; do not be discouraged."
However, when the path becomes dangerous or frightening, He moves in closer He begins walking beside us, shielding us, protecting us and sometimes even carrying us when we are too weak to continue on our own.
For this very reason we do not need to be afraid, we do not need to feel alone. Remember that the valley is the low area between mountains or hills...there is only one place to go and that is up! Oh I am so glad that my God never lets go...not in the good times and not in the dark valleys! That He will lead me, guide me, carry me up to the mountaintop. Thank you Lord for destroying the enemy...for never letting go, for never leaving me on my own...you are faithful, my God you are faithful!
Take a listen to this song...the words speak straight to my heart...they are the reminder of who God is in my time of need...in the midst of my storm, my battlefield, my deep and dark valley...never once has He left me alone...even when there is only one set of footprints, it is because He has scooped me up into His loving arms! I would love for you to also take a listen to both of these songs. Music has such a powerful way of conveying a message to your heart or interpreting the cry of your heart. If you are in the middle of a valley I know these songs will speak to you, they did me!
I would love for you to link up with your own post on this verse or share in the comments below. Next week we will take on the second part of verse 4...His comforting rod and staff.