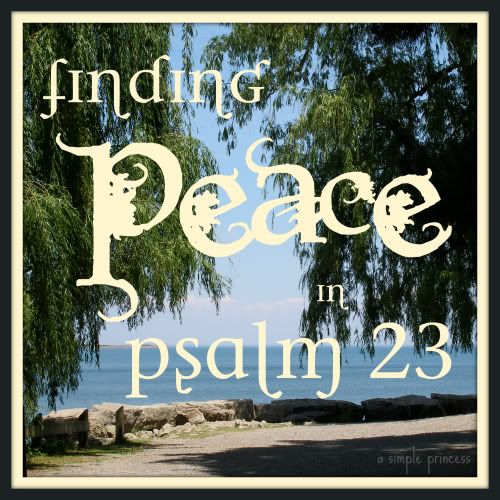 I had a complete post all ready to go a few weeks ago for this portion of Psalm 23
(which I will still post later this week because the information is truly amazing and extremely informative)
. It went through the definition of comfort and explained in detail the shepherds "tools of the trade" and how they apply to us...His sheep! The all-inclusive list went through how the shepherd picks and uses his tools...the staff to guide, observe and draw his sheep near to him and the rod to defend, count and examine and also to discipline.
So, I ask...can you find comfort in the "tools of the trade"?
4b. Your rod and Your staff, they comfort me.
I mentioned last week that I was in the midst of my own dark valley, however I did not share any details. It is a difficult thing to air out your dirty laundry...especially when it seems to come out of know where and you aren't really sure of how you even got there. I knew my hubby was stressed and I also knew we seemed to be a little distant...I thought it was his new job. I mean, it makes sense that with a promotion comes more work load and more stress. That was not the case! The reality is that it is home life that has stressed my hubby out....I have stressed my hubby out! I am still not completely comfortable sharing much more than this, mostly because I am not really sure how we got here...the fact is...we have work to do. We have a strong enough marriage to work it all out, however there is buried stuff that has come to a head that needs to be dealt with. There is hurt feelings and confusion, there is misunderstanding and well, just plain junk that has accumulated. There are places in our marriage that I thought I was getting better at..trust, submission, anger...I thought I was growing in these facets of my life and I am realizing maybe I have not changed as much as I though...maybe not that much at all.
So, do I find comfort in the rod and the staff? Do I find comfort in His Word and in the Holy Spirit?
I want to say a whole-hearted YES!! Yes, I do find comfort when I take the time to listen to Him, to pray, to read scripture, to let it all soak in and to breathe deep. I do find comfort in the fact that I know He is here, guiding me, leading me, carrying me through this tough time. Yes...there is comfort knowing that regardless of where I am and how much I falter...He never changes...He loves me just as I am, but He also loves me too much to leave me here!
The reality is though, that unless I allow Him to comfort me, I will not feel the presence of Him...I will not know His heart for me! Unless I look for Him in this mess...I will not see Him...I will not see His plan! There have been some "passionate chats" that have attacked, hurt and caused more confusion. In my human nature, I tend to revert to old habit and yell...loud and not always nicely. I am not always in the mood to apologize right away...I stew on things and I hold grudges! I close my mind and my heart to it all! I break down, fall apart and close up and in every one of these situations, I am not allowing His rod and staff to comfort me. In these moments of upset I am not allowing His Spirit to fill me with peace and I am certainly not diving into His word for that comfort either. I need to take the time to look up and seek Him...I know that's where my help is.
After a heated discussion a few days ago, my husband asked if I wanted to pray with him...together! Before I even thought about it...with frustration at the forefront the words flew off my tongue: "Are you kidding me? I will have my own prayer time...not with you...not now!" I'm not even sure how he felt about my response...I had shut down at that point and he wasn't going to press any farther. We have had a few nights like this.
Truth be told...I hate this! I hate that we are not able to talk right now without hurting, offending or causing some form of misunderstanding! I hate that we are distant and broken! I hate that it has come this far over a bunch of little things! What I am learning though is that although the ole adage of not making a mountain out of a mole hill may be true, when you pile a whole bunch of mole hills together, you create a mountain and so here we are trying to fix it all!! It's going to take time...it's going to take counselling...it's going to take prayer and patience. Boy, when God laid the word peace on my heart as this years challenge...who knew I would be tested this much to find it!
My husband reads my blog periodically and the other day he mentioned that what he was seeing in my words on the screen and what he was seeing in my actions in the everyday did not always correlate...and it's true! I write my heart and share my passion for Jesus but sometimes in the heat of the moment, I lose sight of that...I fly off the handle...I fail at being reasonable and patient...I fail at being caring and loving...I fail! I need to remember to go to Him...seek Him wholeheartedly...rest in His arms of comfort...let Him guide me, watch over me and draw me close with His staff and in this time of struggle He will defend me against the enemy...and no, that is not my husband...He will examine my heart and yes, He will lovingly discipline me. All I have left to say is that I am so glad that He's not finished with me yet!!
Please feel free to link up your own post on the comforting rod and staff or comment below! Thank you to those who have been praying, even without knowing the valley I am in...your prayers have meant the world to me and it touches my heart that there are so many wonderful women out there that do not know me in real life and yet still reach out and love...such a beautiful testament of God's love in them!!
I will post the "tools of the trade" post on Thursday, for those that are interested in the details behind the instruments!